Updated: 1:09 p.m.
Snow that started Tuesday, and lasted all day Wednesday, kept falling overnight and into Thursday across a wide swath of southern and eastern Minnesota.
The seemingly never-ending winter storm meant a third day of shoveling, travel headaches and school disruptions across the region — and a third day of building up the snowpack for skiing, snowmobiling, sledding and other winter activities.
The official storm total at Minneapolis-St. Paul International Airport stands at 15.0 inches — making it the 14th-greatest snowfall on record in the Twin Cities. The snow total so far this winter at MSP now is 48.1 inches — nearly 28 inches above normal.
Light snow was falling early Thursday in the Twin Cities but should finally wrap up later in the morning. Find more forecast details on MPR Weather's Updraft blog.
Travel troubles
The storm started Tuesday with an intense burst of heavy snow, along with some freezing rain, that caused hundreds of crashes and spinouts, and left snowplows struggling to keep up.
Then Wednesday, and continuing into Thursday, the slow-moving storm system brought a prolonged period of light but steady snow to southern and eastern Minnesota — continuing the difficult conditions for drivers, pedestrians, bicyclists and air travelers.
MPR News is not just a listener supported source of information, it's a resource where listeners are supported. We take you beyond the headlines to the world we share in Minnesota. Become a sustainer today to fuel MPR News all year long.
Authorities reported a flurry of crashes and spinouts, again, on Minnesota highways Thursday morning.
From 11:30 a.m. Tuesday through 7:30 a.m. Thursday, the State Patrol reported more than 1,700 crashes, spinouts and jackknifed semis on Minnesota highways. That total doesn't include crashes on city and county roads.
And that doesn't include the many drivers who cleared their buried vehicles Wednesday and Thursday — only to get stuck on unplowed side streets and in alleys.
The Minnesota Department of Transportation continued to report snow-covered roads across most of the southern two-thirds of the state on Thursday.
Some communities have declared snow emergencies, which put parking restrictions into effect so that snow plows can clear those streets. That includes St. Paul and Minneapolis.
Other cities that have declared snow emergencies include Bloomington, Richfield, Brooklyn Park, Brooklyn Center, St. Louis Park, Robbinsdale, Eden Prairie, Plymouth and West St. Paul.
Minneapolis-St. Paul International Airport reported about 10 canceled flights early Thursday, down from more than 110 canceled flights on Wednesday. And Metro Transit reported delays on many of its Twin Cities bus routes on Thursday.
In addition to the MSP report, other storm snow totals reported as of Thursday morning included 17.7 inches at Lakeville, 17.5 inches at Pleasant Lake south of St. Cloud, 16.5 inches at Savage, 16 inches at Prior Lake, 15.3 inches in Bloomington, 15.1 inches at Victoria, 15 inches at Chanhassen, 14.9 inches at Mahtowa, 14.2 inches at Richfield, 14 inches at Burnsville, 12.9 inches near Montrose, 11 inches near Becker, 10 inches at North Mankato and 5.2 inches at the Duluth airport.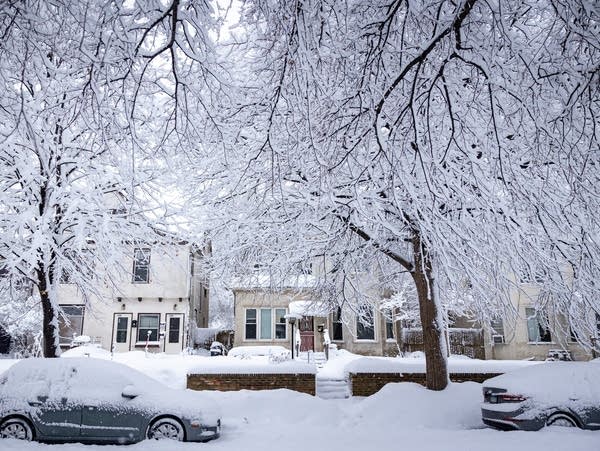 School delays, e-learning days
Minneapolis and St. Paul public schools announced they will again have e-learning days for their students on Thursday.
Moving to online teaching will "improve the city's ability to clear the streets in a timely manner with fewer school buses and cars on the roads," the St. Paul district reported.
Many other districts are starting classes two hours late this morning, including Princeton, Hutchinson, Rocori, Little Falls, Aitkin, Barnum, Marshall, Canby, Fairmont and Blue Earth.
Check with your local district for updates Thursday.
Links for more information
Here's how to keep tabs on forecasts, travel conditions and flight updates over the next few days.
Forecast updates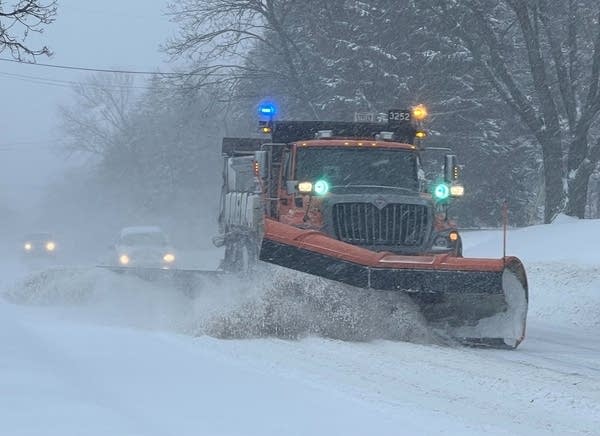 Travel conditions
These state transportation departments offer live updates on road conditions and crashes:
For bus and light rail riders in the Twin Cities, Metro Transit offers weather-related updates on its Metro Transit and Metro Transit Alerts Twitter pages, as well as on its website.
Flight updates
If you're planning to fly from Minneapolis-St. Paul International Airport or another airport around the region — or if you are expecting visitors to arrive by plane — airports offer flight status updates online:
Trail conditions
While a winter storm can cause trouble for travelers, it can be welcome news for skiers, snowmobilers and other winter activity enthusiasts.
The Minnesota Department of Natural Resources offers updates on cross-country ski and snowmobile trail conditions at state parks and along state trails around Minnesota.
The Minnesota Ski Areas Association posts updates on snow conditions at downhill ski and snowboard areas around the state.
The Loppet Foundation posts updates on cross-country ski trail conditions in Minneapolis.
SkinnySki.com shares cross-country ski trail updates from across the state.